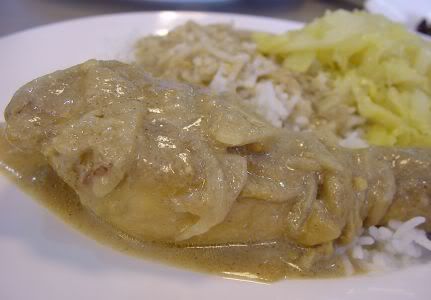 Yesterday, we both had to run some errands and ended up having a pretty late lunch at Kelana Parkview after visiting Clickers, TM Net's main office. Nasi Kandar Bestari must have recently opened here as I do not remember them being here the last time I came to sort out my modem problems.
Nasi Kandar originates from Penang and is essentially like banana leaf rice where you choose from a selection of curries and vegetables to eat with your rice. The name for this type of cuisine comes from the unique way they served in the early days where the vendors would carry their food in two large containers balanced by a pole known as a kandar. There are lots of different Nasi Kandar places in Kuala Lumpur now and some can have huge spreads of curries for you to choose from.
Nasi Kandar Bestari is just one of the many who originates from Penang. They seem to have an interesting way of placing their restaurants within office complexs offering easy access to the office workers. I often eat at their other outlets at Desa Sri Hartamas or Plaza Mont Kiara and my absolute favourite is their creamy chicken korma curry. It must be everyone's favourite too as only one piece of chicken was left after the lunch crowd. Sorry for the not so nice picture as I slathered it with lots of the sauce which is a must have with my rice. Korma curry gets it's creaminess and rich taste from adding coconut milk. There are different variations and some even contain "nut milk" made from straining soaked cashewnuts. The taste of this curry is mild with less chillies and spices like cardamom, cloves and cinnamon.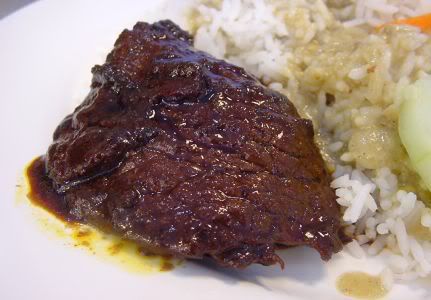 Splashie Boy had daging kicap which is beef cooked in thick soya sauce that gives it a mild flavour. I had a taste of it and thought the beef was too tough to my liking.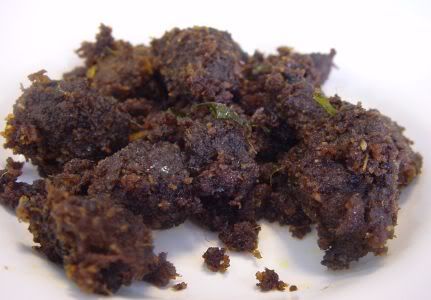 When I was at the counter choosing what I wanted for lunch, I saw these black little bits in a tray. A lady was anxiously asking the man behind the counter to pack some for her. Since there was so much excitment about it, I asked her what it was and she said it was rendang daging that was unbelievably yummy. It seems she will always pack a portion home which she eats with bread. On her advice, I tried a small portion of it and wow, I thought it was yummy. Flavoursome with coconut bits with tender beef cubes - these were excellent. Usually the dry rendangs I have eaten always have chewy beef bits.
Hope you will give Nasi Kandar Bestari a try. I think they are pretty reasonably priced too and another unique thing about them is they're the only Nasi Kandar place I have seen with a tagline: "Everybody's Favourite Place".