Yesterday, since I had to make a trip to Bina Warehouse to buy the kitchen sink (which cost a bomb!), I could happily enjoy my favourite fried chicken at the stall in Kampung Attap.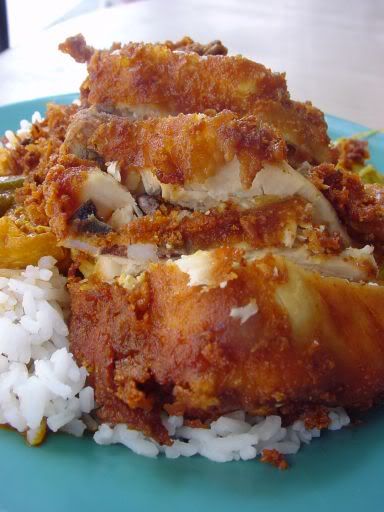 It's been a while since I ate here but nothing has changed and the food is still great plus most importantly, no change to their prices. They are famous for their fried chicken which is crispy and not dry on the inside. Just like the
Kampung Attap fish head curry stall,
you get rice with vegetables and curry sauce plus the chopped up fried chicken. If fried chicken is not your choice with the bird flu scare, you can opt for the various curries they also serve.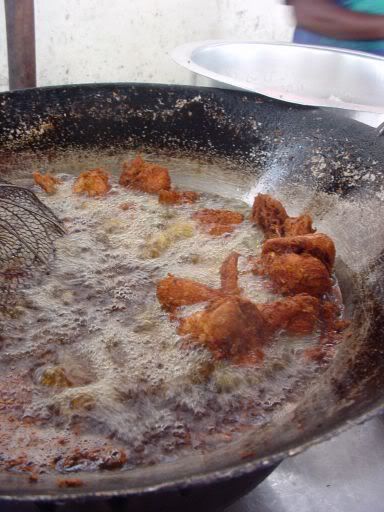 Usually whenever you go to an Indian restaurant, they would have pre-fried the chicken ahead of time hence it's dry and tasteless. Here they fry small batches at one time and will make fresh ones when it runs out.


The place is just a shack at the corner of a road which gets pretty decent business during lunchtime - you get the office crowd, the runners and once I even saw some foreign executives eating here. It's not as packed as the fish head curry stall but they must be doing quite well throughout the years as we heard that the owner who used to drive a van could upgrade his car and even open a branch in Australia.
So how much is my plate of fried chicken rice? It's only RM3.50 which makes it a fantastic deal and cheaper than the fish head curry stall. In terms of comparison, I would say the curry they serve at the fish head curry place is much better (more taste) but this place's crispy fried chicken is still my favourite.