@ Tesco Mutiara Damansara
Recently Tesco Mutiara Damansara has gone to a facelift with new restaurants opening there such as King Pie (the South African franchise pie makers), Old Town Kopitiam and a bigger Santai Kitchen which originally started out as a stall within the food court. It's a branch of the
Santai in Taman Tun Dr. Ismail
which I had blogged about last year. The last time we ate at Santai, we ordered dishes but in this particular outlet, one dish meals are extremely popular as they're simple and fast.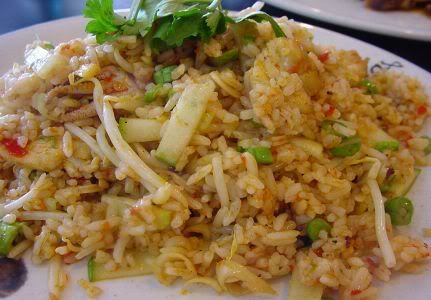 So far, we have had two meals there as we usually grab a quick meal before we do our grocery shopping at Tescos. There are many varieties of fried rice here but I tried something I have not had before called Nasi Goreng Kerabu(RM5.00). This version is spicy with bean sprouts, chopped long beans, diced cucumber, chicken cubes and thai chilli sauce. Very nice fried rice and I enjoyed the spicy notes in it.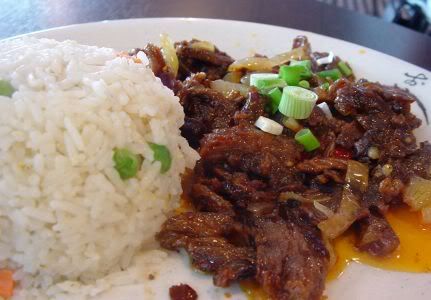 Splashie Boy had the Nasi Daging Masak Merah(RM6.00) which is just plain rice served with a fried beef dish in tomato sauce. It's one of his favourites as we ordered this before in the main Santai restaurant too as they do it really well here.


On our first visit there, I had Mee Bandung(RM5.00) which is yellow mee served in a spicy chilli prawn based soup. The soup is made from a chilli paste of grinded dried prawns, chillies, garlic and shallots. It's then fried in oil until it's fragrant then coconut milk is added into it. Then it's up to you what you wish to add into your Mee Bandung but usually it has a fried egg topping it with spinach in the soup.
Splashie Boy had the Cantonese Fried Kuay Teow(RM5.00) which is rice noodles fried that comes with a thickened stock base. It has pieces of chicken, kailan and an egg to thicken the soup base. Although it's a bit pale looking (the Chinese usually add soya sauce to the fried noodles to make it browner), it tasted great.
They also serve a pretty decent Ice Kacang(RM3.50) here with rose syrup and lots of ingredients like red bean paste, glass jelly cubes, cendol bits, palm seeds and peanuts. Sorry there's no picture of it as it came out a bit blurry. During peak times, this place is always packed with people but they serve the food really fast so you don't really need to wait too long. If you want the same dishes but a nicer environment, try their outlet in Taman Tun Dr Ismail. They also sell cakes like tiny cream puffs, chocolate cakes, brownies at the outlet which you can order.