It's amazing what you get to see at night markets (Pasar Malam in Malay) and I was bowled over by this little stall at the SS3 market which is held every Tuesday. They were selling all kind of Indian goodies but what was unique about them was it was freshly made on the spot for you. It was my first time seeing how they make
putu mayam
or string hoppers. This guy had a tub full of white dough which is made by mixing rice flour and water together. He takes a large portion of it and stuffs it in a sieve and presses down. Strings of the dough will come out and he twirls it around to make it in a round.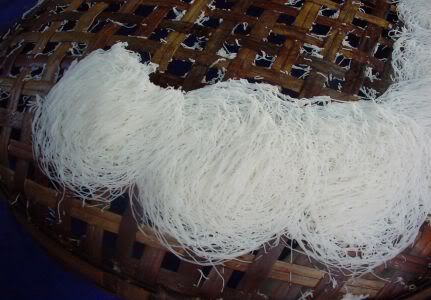 The guy was working extremely fast hence I had to take a few pictures before I could actually get a good picture. Here you have a close up of the putu mayam. It is then steamed on the wooden baskets and placed in front of the stall to be sold. You eat it with freshly grated coconut and brown sugar.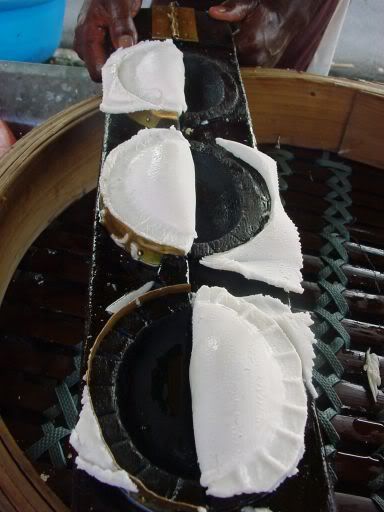 They were also making this sweet puff (no idea what is the Indian name as the lady just told me it was called sweet puff) with the same dough. A piece of flattened dough is placed in the mold and then the filling (seen below) is added. Another piece of flattened dough is then placed on top and the mold is pressed together to shape them into puffs. These are also steamed before being sold.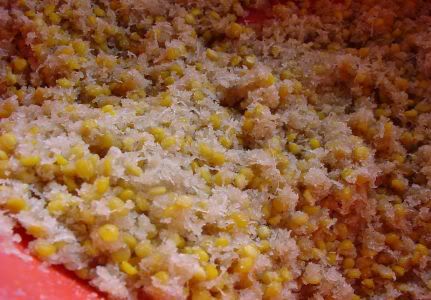 The filling of the sweet puff consists of yellow chick peas and grated coconut that has been sweetened.