@ Kemensah Heights, Kuala Lumpur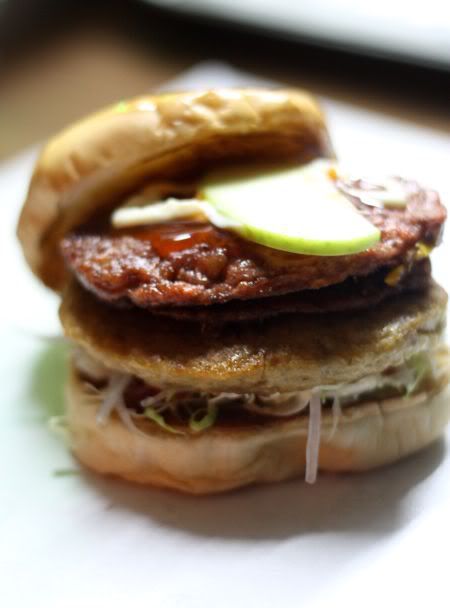 ordering burgers can get a little sticky here, as they ask you "nak kawen tak???" (Malay for, "do you want to get married?")
Quirky, is the best word that describes this out-of-the-way place we were first introduced to by the
Fried Chillies team.
Utterly passionate about street burgers in all shapes and sizes, they're definitely the Indiana Jones of burger hunters, as I would not have ever discovered this small stall tucked inside a housing estate behind the zoo! Surprisingly, we remembered the turns taken in the middle of the pitch black night (we came once with them!) and managed to retrace our steps back to this place without any GPS coordinates. No guesses on who was navigating (it wasn't me!) since he usually has a sixth sense when it comes to tracking his way around.

watching the pro work behind the grill is always fascinating

Green seems to rule at this stall! You have a green fluorescent light brightening and casting an eerie hue all around it. Then, unlike the other Ramly places in town, this fella adds a slice of green apple and shredded cabbage on his burgers. Seems the grill master decided adding cucumber and tomatoes will be too watery hence he switched to green apple. The addition of the fruit adds a freshness to the burger but it would have been even better, if more slices were given though.

so satisfied! even though the wait is a little long

The fun does not stop there either, as the stall owner has a type of burger called Kawen (Malay for married) where you get to mix 2 types of burgers - the chicken and beef patties. While it is nothing special in terms of taste, the guy behind the grill obviously gets a kick of asking girls, "you nak kawen tak? berapa kali you nak kawen?" (Malay for "do you want to get married? how many times you want to marry?") Needless to say, I took the plunge and "got married" here!