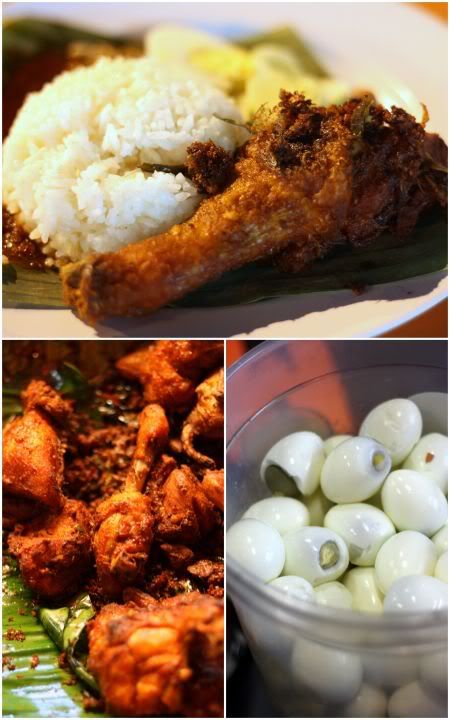 Those with long memories will remember Nasi Lemak Lee - the stall that was located at the corner of Jolly Green Giant (the old Medan Selera in Bangsar), where they served scrambled soft eggs with yummy fried chicken. That stall is actually Nasi Lemak Famous who was asked to move in to Bangsar Selera's foodcourt during a massive cleanup and relocation exercise of the street stalls in Bangsar.
They have abandoned serving the eggs that way but the fried chicken with the crispy batter bits still remains very good - crunchy and tasty from the marinade. I also liked the steamed rice, aromatic with coconut milk with seperate grains. While fried chicken is their specialty, they also have a very good beef rendang, cockles, chicken curry and etc., for you to choose from.
The owner also runs the mee bandung stall next to the nasi lemak place. Even though the ever famous Nasi Lemak Antarabangsa may have opened nearby in a modern cafe style round the corner for this, I'm all for this version of nasi lemak to be eaten on melamine plates and under the cool night sky. For bigger pictures, see the
Flickr set.
Corner of Bangsar Selera Food Court