It took us quite some time to locate this bazaar, but we're glad we pursuited it as it had some unusual stalls. Love how each area has their specialties.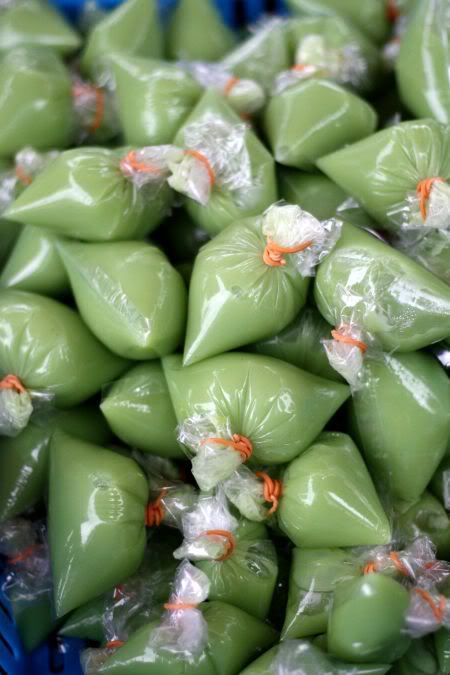 These teeny weeny chakois or dough fritters seem to be unique around this area, as I first stumbled upon it at Nong & Jimmys at nearby Taman Dagang. I reckon it could be a Thai influence since I've seen them selling these, in Bangkok and Haadyai before. I love the pandan flavoured kaya served on the side, to dip these crunchy fritters.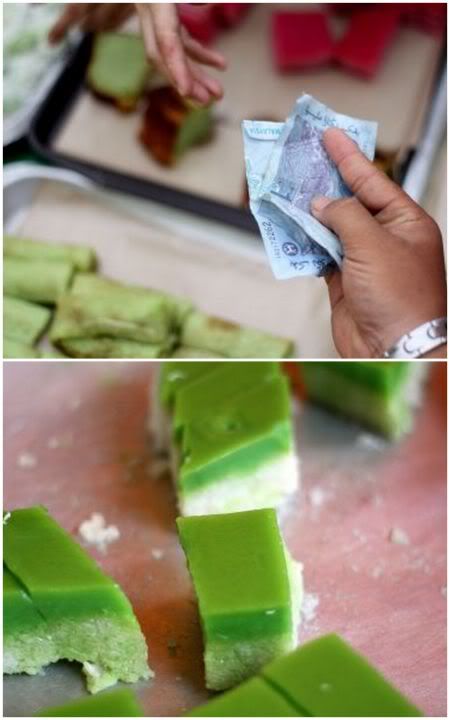 payment is needed, seri muka

There's quite a heavy Thai influence around the Pandan Indah area, with restaurants and the popular Thai Market Font located within the shophouses. That's where people come and get those Thai vegetables, spices and herbs you don't get in the local markets. Every Sunday, drop by as they serve these super spicy curries made from unknown items, satays, noodles and etc.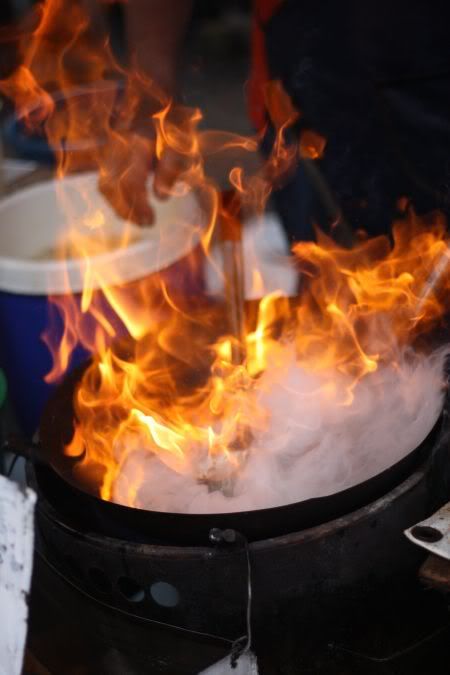 fire fire fire....for char kuey teow
Back to the bazaar, the stalls are cramped in one small area near the apartments but the crowd is bearable. Not being from the area, I have no idea what is famous but some stalls get a huge following like the Nasi Lemak Bob - packets of nasi lemak being prepared like a factory production line.


pretty colourful fruit agar agar
We were attracted a stall selling all kinds of agar agar with fruits within them. Pretty to look at, snap pictures but honestly they just tasted average only.


assorted jellies and kuih
One particular kuih stall was doing booming business, a mini van selling with trays and trays of Malay kuih, agar agar including the watermelon agar agar. Must be very good stuff as the queue was so long for their items. I also spied one stall selling the dried agar agar, known as agar agar sakar. Pretty rare stuff since they're very hard to make.


delish ayam golek and cockles
There were a few stalls selling cockles done in various ways, cooked in a spicy sauce that looked very delicious, roasted (bakar) and steamed. The ayam golek was also present with the stall owners using various methods to make this delectable juicy chicken - one within an enclosed "oven" and some just on a rotating metal bar.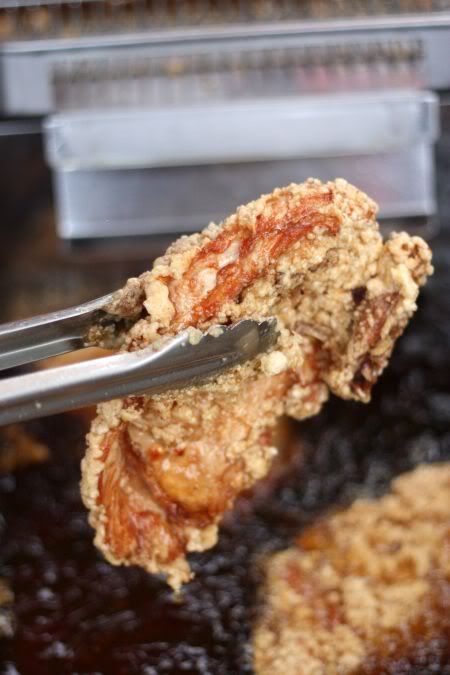 deep fried chicken done the Uncle Bob way
I was very surprised to see Uncle Bob's fried chicken here. More popular in SS2, this Taiwanese influenced deep fried chicken is very delicious especially eaten hot but has loads of MSG.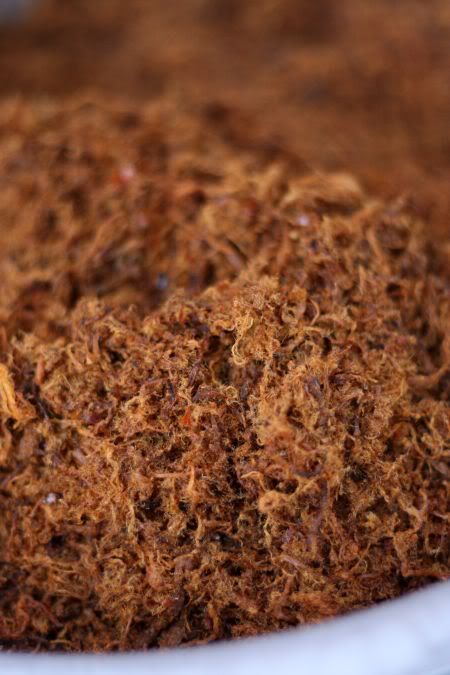 Some stalls had taken old items and given it a new look, like this fellow who was selling Roti John Bersalut - he added a breadcrumbs to the bread to give it a crispier texture.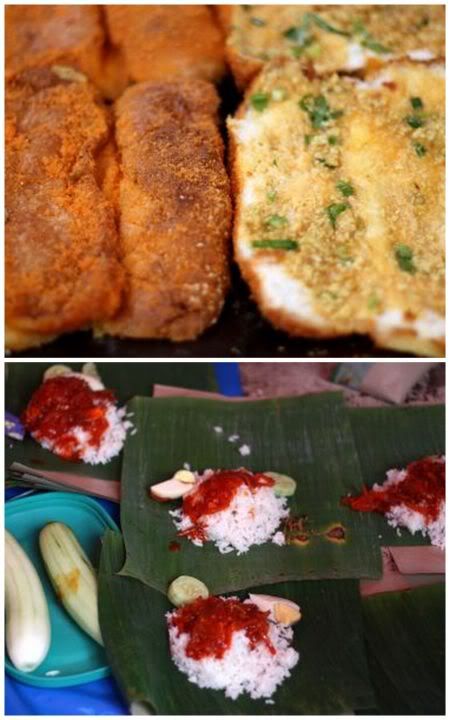 roti john bersalut with a breadcrumb crust, nasi lemak Bob
Loads of rojak items were sold here, you had the fresh fruits version, the deep fried version known as rojak singapure where you pick the items and they cut it for you and for the first time ever, they even had packed rojak paru goreng aka rojak with fried cow's lungs!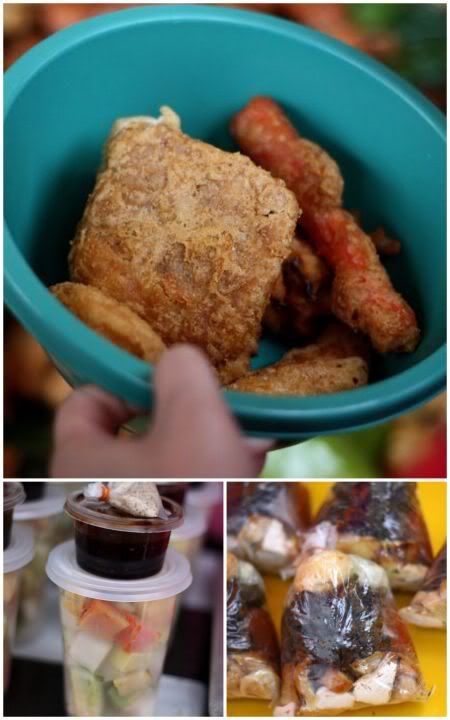 rojak singapura, rojak paru goreng and rojak buah
One stall had the whole lamb being roasted over a charcoal fire. Sadly since I was late (searching for the bazaar), we only managed to catch a picture when the meat has already been almost stripped apart. The stall owner was also grilling some parts of the lamb on a seperate grill as it was not cooked properly. Looked very good since he slathered some brown sauce over it.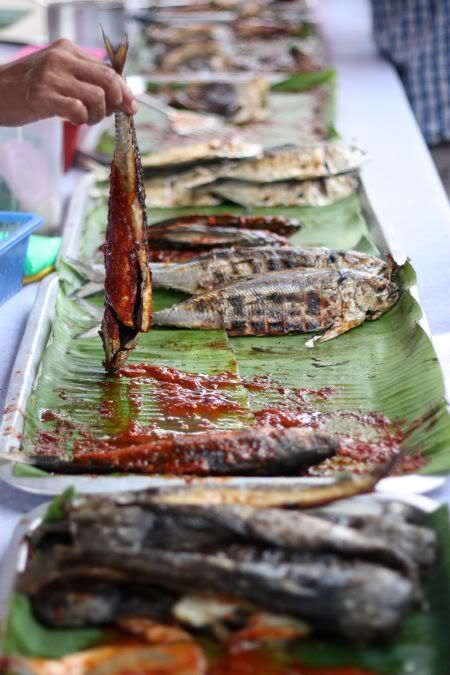 One stall owner was frying up char kuey teow with huge flames. Wonder if the noodles will taste nice, as everytime he added something, it almost went up in flames.


Some stalls were selling modernised items like muffins or more like mini cupcakes, since they had various toppings like chocolate chips and oreo crumbs.



Pretty good selection at this bazaar, makes it a great place to drop by during the weekend.