@ Tajine, Jalan Bukit Bintang, KL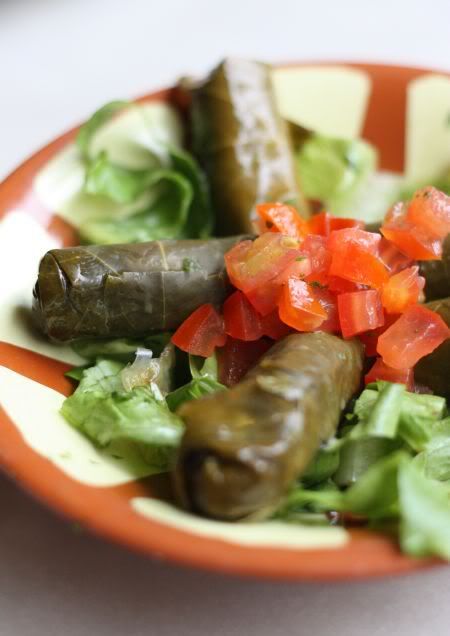 waraq ainab - grape leaves wrapped rice, delish appetizer (RM8)

Sunday, Monday, Happy Days....! (from the iconic Happy Days theme) Let's start the week, off with some colour and a little out of the ordinary. The weekend was good, kicking off with a fantastic dinner (more on that magical experience this coming week), a little cinema magic with loads of steel (and too little human involvement or nary a plot) and ending with one of the most touching movies I've watched for a long time, the award winning Departures.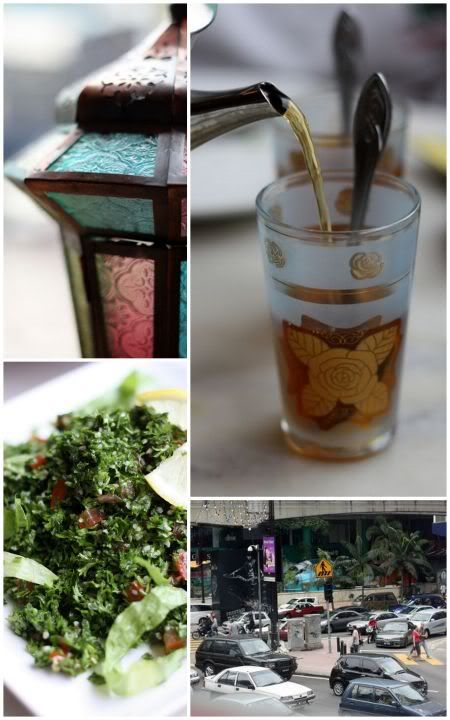 1. coloured lanterns, 2. mint tea, 3. busy traffic on Jalan Bukit Bintang, 4. tangy tabbouleh

Feeling a little adventurous last weekend, we took a walk down the busy touristy streets of Jalan Bukit Bintang. Expect to catch tourists from all over (Phillipines, China, Indonesia, Middle East and etc) down this infamous strip of reflexology joints, pungent perfume shops, budget hotels and etc. Arabic words on signboards stamp out Middle Eastern joints (and influence). If it wasn't for the local city council's famous logo, "Sayangi Kuala Lumpur", I would think I've wandered into some foreign land. I have been eyeing Tajine, this Moroccan place for quite some time - visible when you're dallying away at the traffic lights on busy Jalan Bukit Bintang. Ironically, the day we visit it, the cops seem to be guarding this place (since two of them were monitoring the situation right in front of the restaurant's entrance). Kinda reminds me of my first Nepalese experience in Khukri on Jalan Silang, where the day I visited it, the FRU raided the street for illegals.


1. the closest we got to the tajine, 2. hummus tahina, 3. pretty tiles, 4. comforting lamb kofta tajine

Not surprisingly, the place is quiet with no other customers. Located on the first floor, the restaurant is quaint with a large glass window to let you spy down on the busy ongoings of Jalan Bukit Bintang. I love the little touches here - colourful tiles decorating one portion, plates on the wall as decoration, a tagine and coloured glass lantern on the windowsill and carvings on the ceiling. Great to add atmosphere in my pictures.


pretty baklava and plates on the wall

The menu is a mix of Middle Eastern and Moroccan dishes like pastilla, couscous and etc. We order a mix of Moroccan dishes with familiar Middle Eastern favourites for appetisers. The waitress looks Chinese and I almost want to rattle out to her in Cantonese but her weird accent stops me from uttering a word. After we place our orders, there seems to be a commotion down at one end where a Middle Eastern lady is arguing with people.
We're a little too far to eavesdrop on their conversation but luckily that ruckus does not interrupt our service, as appetizers arrive fairly quickly. Thumbs up to the Waraq Ainab (RM8) - grape leaves wrapped rice drizzled with oil and served with diced tomatoes and lettuce. A little cold but not frozen to death, it's light and delish to kick off the meal. I liked the tangy flavours of our Tabbouleh (RM10) - chopped curly parsley tossed with teeny weeny bits of chopped garlic, lemon and oil.