@
Medan Selera Kampung Baru, KL
memorise this place to get the best ever experience
Recently I had a chance to try some Malay fine dining food. While the flavours were very different from street food, it left me craving badly for the typical nasi campur (mixed rice). Didn't help when my colleague started going on about his favourite place too, which turned out to be my all time favourite Malay food outlet. Part of the Hassan's huge empire of ayam kampung goreng (fried free range chicken) restaurants, this seems to the best outlet I tasted so far (vs Shah Alam and Puchong) as it shares the same kitchen as the original place in Subang Jaya. Most of the time, I dine at the Shah Alam outlet since it is the nearest to the office.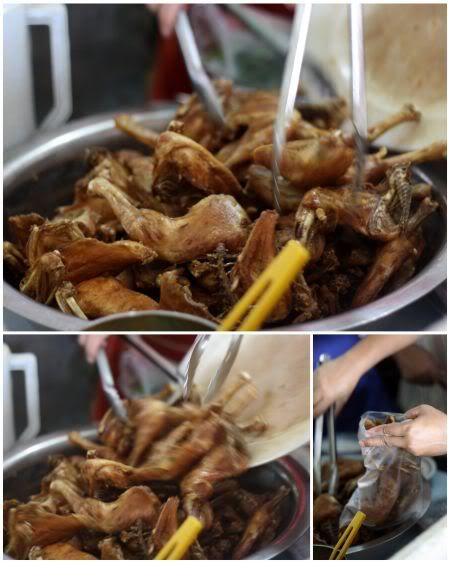 gone in 60 seconds...just like the movies
Get here early as there's always a crowd. Not sure if you can see but we got here at the stroke of noon and people were already crowding all over, waiting for the food to be ready. Most of the items are brought in here from Subang Jaya but the chicken is fried on the spot. Getting it fresh from the wok is essential, hence you find it dissapearing as fast as a luxe sports car in the Gone in 60 Seconds movie. While the chicken pieces don't yield much meat, it is all worthwhile as it tastes sweet and juicy. You basically see families carting away plates of the fried chicken and for some like our friend, Mr. A - one piece is never enough.


best way to spend a Sunday afternoon, relax, read the paper and get a great lunch
Being the not very adventurous type, we rarely vary what we pick from the nasi campur line. Here the food has a Kelantanese slant and is reminscent of what you get from the famous Restaurant Hoover in Kota Baru. We both have our favourites - my yummy clams cooked in a not spicy yellow coconut rich curry, paku pakis goreng (fried ferntips) while he always reaches for his dendeng (fried and flattened beef) drizzled with this wickedly rich coconut sauce and the sticky and sweet fried peanuts and ikan bilis (anchovies). Another must - enjoy all this with your hands especially the fried chicken, which seems to taste nicer when you pick the juicy bits with your fingers.