This is what we all came back for, their Sambal Tempoyak Daun Kayu which is fantastic stuff. I had to tell the chef in charge that day it was my favourite dish and he told us it is made from: finely shredded tapioca (ubi kayu in Malay) and turmeric (kunyit in Malay) shoots, some petai (stinky beans) and pumpkin which is cooked with lemongrass, shallots, garlic, santan, turmeric and cili padi pounded together. You then add in tempoyak which is freshly fermented durian. According to the chef, this is a Negeri Sembilan dish. I read in a newspaper article that Chef Ismail, the owner of the restaurant is originally from Rembau, a small town in Negeri Sembilan and these dishes are from his hometown.



More stinky beans, this time round it is sambal petai udang with prawns and a spicy sambal sauce.



I have featured this quite a bit especially just before Raya, lemang that is made from glutinous rice and coconut milk cooked over a slow fire. Here you have rows and rows of them all cut up for serving. There was Rendang Tok, another hometown specialty of Chef Ismail that was served with this.



I am not too sure what is the exact name of this dish but I suspect it is a Gulai Daging Salai i.e. grilled beef cooked in curry.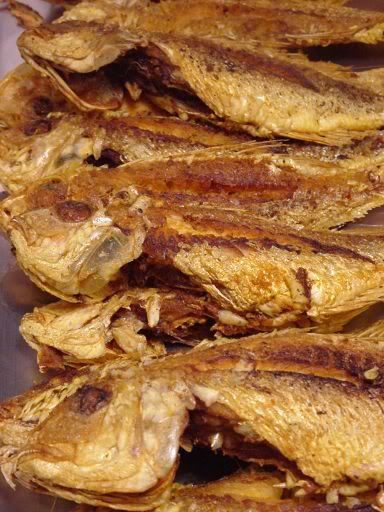 There was a lot of fish served, crunchy deep fried ikan kembung (I think as I am hopeless in identifying fish varieties) and Asam Pedas Pari Masak Kuah Lada (stingray cooked in a tamarind flavoured curry with vegetables).



Something you don't see all the time, the Tempoyak Patin Pahang which is catfish cooked in a curry that also has the freshly fermented durian. Ikan Patin (silver catfish) is famous in the state of Pahang especially in Termerloh as the fish found in the Pahang rivers tastes better here. The locals believe the fish is sweet and succulent from a diet of aquatic plants and shellfish unique to this area only. Natural ikan patin is difficult to catch with the increase of pollution in the river and nowadays they are bred in cages by the villagers.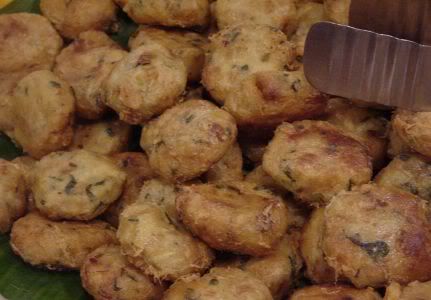 I love this, the Bergedil - made from mashed potato and meat that is deep fried. Usually served with soto (a beef soup), this is also nice on it's own. There was also fried tempe and beancurd served.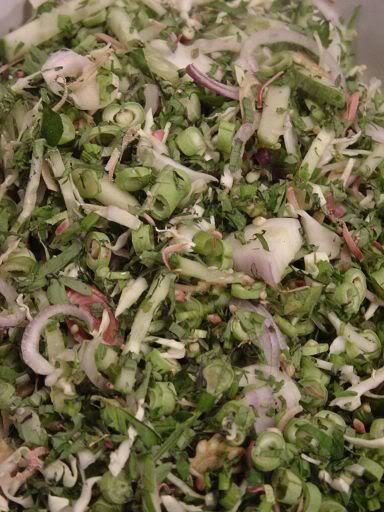 I love the ulam (fresh herb salad) they had, you could add this to your rice with a sprinkling of toasted coconut, toasted fish flakes and sambal to make your own Nasi Kerabu.



The last time we were in Rebung, I missed out on their satay as it was gone by the time I reached the buffet table! This time round, I was lucky as I sampled their beef and chicken satay. The beef satay was very nice and tender. Besides these dishes, there was also pecal (peanut sauce) with vegetables, roti canai, fried mee and etc.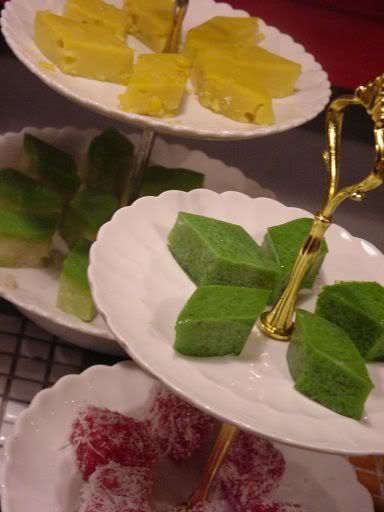 The dessert spread was full of various kuih-muihs, i.e. Malay cakes made from sago and grated coconut (the red one), corn (the yellow one), kuih talam and etc. There was also tapai pulut (fermented glutinous rice), pengat pisang (bananas cooked in coconut milk, palm sugar and sago pearls) and popiah.
Nyumm...nyummm sedap nyerrr...